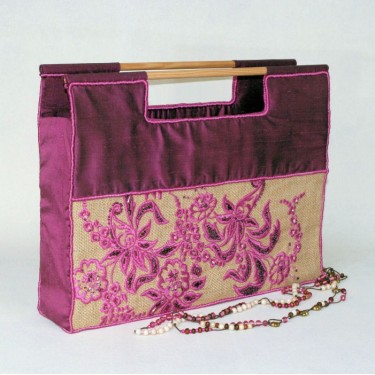 Maximize
Tuto Embroidered Handbag
A tutorial for an embroidery all in contrast, between a rough jute and a silky taffetas, between round flowers and straight lines of the bag; these embroidered patterns are inspired by shawls worn by women in Brittany in the 19th century. With Talent-Aiguille tutorials, you will love luxury and wear it every day!
A tutorial to download, in a Pdf format, of 21 pages, including a detailed listing of materials needed, step-by-step explanations (pattern tracing, embroidery work, finishing) with texts, graphical explanations (drawings with captions), a template at real size with mounting instructions. Many pictures of illustration and details.

Two available formats for printing: French text in A4 format (21 x 29.7 cm) for most of printers; French text in Letter format (8,5' x 11' - 21.59 x 27.94 cm) for North America. Choose above the right version matching your printer settings, to not distort the template provided!
THE Talent-Aiguille tip: a simple, stable, and comfortable technique, to reproduce a pattern on a jute, and our secret technique to get a perfect embroidery on this material.
Stitches and techniques used: all stitches and techniques used for this creation are available for free at the stitches and techniques library library.

Talent-Aiguille bonus: the booklet includes our recommandations to buy materials on the internet.
Number of pages:

23

Language:

francais

Available formats:

A4 (21 x 29,7 cm) pour la plupart des imprimantes ; Lettre (21,59 x 27,94 cm) pour le Canada et les USA